DON'T FREEZE YOUR ASSETS.
ThermaPax insulated inserts:
Extend the viability of cold weather wine shipments.
Fit most existing wine club boxes and molded pulp trays.
Have been tested in real-world conditions.
Ship with confidence,
12 months a year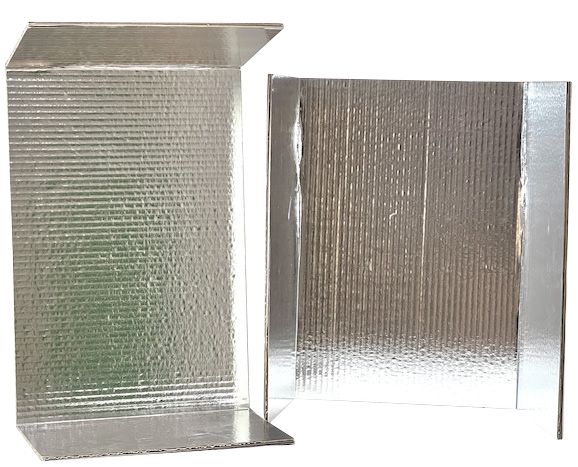 • Environmentally superior cold-chain alternative
• Low minimum order quantities
• Next-day delivery included
• Quick to assemble, pack and ship
• Stock sizes available for 6 & 1 2 bottle packs
• Works with most existing wine club packaging
• Flat design minimizes space requirements
• Protects against hot weather too
• No set-up fees
4 Types Of Heat Loss
• Evaporation - the loss of heat when a liquid becomes a gas
• Conduction - the loss of heat from touching a colder object
• Convection - the loss of heat from air or liquids in movement
• Radiation - the loss of heat from colder, static air
Barrier films like those used in ThermaPax are concerned with heat loss prevention via radiation.
Radiant barriers use thermal-reflective material with low emissivity to redirect heat.
In their use in ThermaPax these barriers reflect heat back into the package.
Other variables that affect the freezing of wine shipments include:
• The internal package temperature when packed
• The sealing method employed to the package
• The thickness of the bottle
• The alcohol content percentage
• Time in transit
• Delivery destinations
ThermaPax will not stop wine from freezing, but it will delay it.
Call us today for samples or a quotation.
hello@pax-nat.com
(416) 525-8930